whiite thrash: so no one has asked me out to dinner for my birthday
whiite thrash: except for
whiite thrash: THE DISHWASHER AT MY WORK??
gemath y: well, you choose your friends based on their attractiveness.
gemath y: never works.
whiite thrash: hahaha
gemath y: so
gemath y: avril is such a fucking asshole
gemath y: you have to watch letterman
gemath y: omg
whiite thrash: i love the girlfriend song though and theres nothing you can do about it.
gemath y: I've never seen a more annoying person
gemath y: watch the show.
gemath y: definitely
gemath y: your friends suck so much
gemath y: this is why I can't visit you in az
gemath y: you have to come here
gemath y: because my friends are the greatest
whiite thrash: i need to find a reciprocating best friend.
gemath y: here's the deal
gemath y: you're in college.
gemath y: I think college is one of the worst places in the planet
gemath y: there's no way in the world you're going to make a best friend there
whiite thrash: i'll advertise on craigslist
whiite thrash: wanted: bff4life
whiite thrash: must have: spunk
whiite thrash: no: skinheads
whiite thrash: hahaha
gemath y: wow
gemath y: you HAVE to do the craigslist thing
gemath y: to see the responses
whiite thrash: wouldnt that be so funny?
gemath y: now that's a worst fucking idea if I ever saw one
gemath y: I have to go eat peanut butter.
but first!
gem had to search the platonics. sigh. winner #1!!!: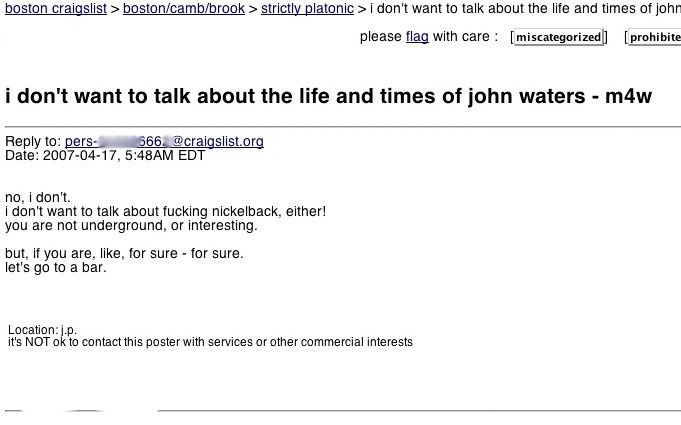 and then
she obviously had to craft a letter.
A friend and I are looking at our respective cities' craigslists to determine where we should post our want ad for a new best friend. We couldn't decide between strictly platonic or jobs. The thought was that we needed to do some research in the platonic section. This activity being a continuation of our worst fucking ideas, we decided to respond to only the ones we loved.



So, I found your listing and thought it was worthy of a response. Clearly, nowhere near interesting. But, NEAT, man. I don't live in JP and I don't know how old you are, but if you have a myspace, I'll make you a blingee.



To clarify, I don't need a new best friend, she does.
i don't know if he responded. it's her turn to take the ol' blog wheel. BLOG WHEEL. you know, like a car? take the wheel? zing.